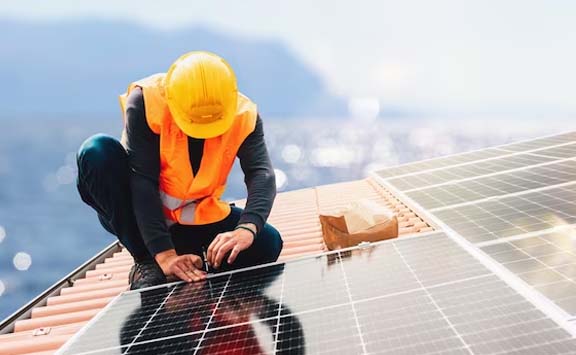 The Philippines is a country that receives plenty of sunshine all year round. This makes using solar panels a viable and popular choice here in this nation. If you're looking to buy solar panels, this guide provides insights into solar panel prices in the Philippines & Manila
Solar Panel Pricing Guide
Discover the most competitive solar panel installation costs in the Philippines. At Nativ Techniks, we believe in complete transparency and aim to make solar panels affordable in every home across the Philippines. Below is a breakdown of our solar panel pricing for various capacities:
5kWp Solar PV System
PRICE : ₱ 360,000
Ideal Package for: P8,000 – P12,000 and below/month.
Estimated Annual Production : 7.25MWh.
Estimated Annual Savings: ₱ 65223
Perfect for minimal energy needs, such as small cabins, tiny homes, or specific appliances.
7. 5kWp Solar PV System
PRICE : ₱ 512,500
Ideal Package for: P13,000 – P17,000 and below/month
Estimated Annual Production : 10.61MWh
Estimated Annual Savings: ₱ 95,490
A 7.5 kW system is large enough to run the average home in less-than-average sunlight.
10kWp Solar PV System
PRICE : ₱ 665,000
Ideal Package for: P18,000 – P22,000 and below/month
Estimated Annual Production : 13.98MWh
Estimated Annual Savings: ₱ 125,784
A 10kW solar system produces 13,400-16,700 kWh annually, enough to power an average home for 3 hours.
12.5kWp Solar PV System
PRICE : ₱ 827,500
Ideal Package for: P23,000 – P27,000 and below/month
Estimated Annual Production : 17.54MWh
Estimated Annual Savings: ₱ 157,842
A 12.5 kWp solar system converts sunlight to electricity, requiring 75 m2 of roof space, ideal for large homes or high power use.
15kWp Solar PV System
PRICE : ₱ 990,000
Ideal Package for: P28,000 – P32,000 and below/month
Estimated Annual Production : 21.10MWh
Estimated Annual Savings: ₱ 189,900
15kW solar system produces 60kWh daily, suitable for commercial setting, with 37-45 panels occupying 75-90 m2 of roof space.
Factors Influencing Solar Panel Prices in Manila
Prices of solar panels depend on a variety of factors. Below, we have put together a compiled list of all the factors affecting solar panel prices in the Philippines. So, let's take a look.
Brand and quality
Quality varies among solar panels; premium brands known for durability and high performance command higher prices, representing the best available
Efficiency
Higher-efficiency solar panels cost more but convert sunlight to electricity more effectively, producing more power in less space over time
Manufacturing Materials
Panel costs vary by type: monocrystalline is efficient but costly, while polycrystalline is more affordable but less efficient
Installation Complexity
Installation complexity, roof type, system configuration, and additional infrastructure also significantly impact the overall cost of solar panel setups
Economies of Scale
Bulk solar panel purchases and larger installations can lower cost per watt by distributing fixed costs like labor and equipment over more units.
Warranties
Higher-priced solar panels often have extensive warranties, reflecting manufacturer confidence in product quality, longevity & performance
Regional Factors
Regional factors like import duties, shipping, regulations, and competition affect solar panel prices, with costs varying across different parts of the Philippines
Incentives and Subsidies
Government incentives can lower solar panel costs, but high demand from these rebates may temporarily raise prices due to increased manufacturing stress.

Tech Upgrades
Advanced features like integrated micro-inverters, smart monitoring, and auto-rotate capabilities in solar panels command a premium, increasing costs.
Factors to consider before selecting your solar panel company
It's important to choose the right solar panel company to ensure you get the best quality panels at the most competitive prices. Below, we have prepared a checklist to ensure you get the best solar panel company in the Philippines.
Experience & Expertise
Select a company with a solid history of successful solar installations and expert technological knowledge
Certifications and Licenses
Choose a certified solar panel company with industry recognition and proper regional operating licenses.
Customer Reviews & Testimonials
Seek a company with positive customer reviews and testimonials, indicating reliable service and quality
Warranty & After-sales Support
Choose a company offering strong warranties & comprehensive after-sales support.
Customization & Consultation
Select a company tailoring solutions to your energy needs and offering thorough consultations.
Why Choose NATIVTECHNIKS For Your Roof Solar Panel Installation?
Native Techniks is the number one solar panel company in the Philippines, with an unwavering dedication to utilizing our earth's clean energy and contributing to a greener, healthier, and more sustainable environment for all of us.
We are committed to helping local businesses integrate solar energy to power business processes, reduce costs, and help commercial organizations align with environmental, social, and governance standards (ESG). We firmly believe that the future of energy is green, and we stand behind the government's renewable energy target of 55.8% by 2040.
Moreover, we have committed significant resources and expertise towards reaching the United Nations Sustainable Development Goals for Net Zero emissions by 2050. Our part in helping reach that target is to ensure every Filipino community has access to clean energy, safe drinking water, and proper sanitation.
We are Nativ Techniks, your no. 1 native solar panel solution in the Philippines.
Solar Panel Installation Checklist
Wondering how to set up solar panels on your roof? Harnessing the sun's energy efficiently extends way beyond mere solar rooftop installation. Below, is a comprehensive guide to everything you need for a successful solar roof transformation in the Philippines.
There are solar panels available at different prices. Choose the one that best suits your budget.
Traditional Solar Panels: Best for homes with ample roof space and a focus on efficiency
Direction: In the Philippines, a north-facing roof is ideal for maximum sunlight exposure.
Angle: A tilt between 15° to 40° is typically recommended for optimal energy capture.
Ensure your roofing can support the weight and installation of solar panels. Whether it's corrugated metal, concrete tiles, or flat roofing, a sturdy base is crucial.
This device converts the direct current (DC) generated by your solar panels into alternating current (AC) for home use. Choose between string inverters, microinverters, or hybrid inverters based on your setup and needs.
To store excess energy for nighttime or cloudy days, consider adding a solar battery storage system. This ensures uninterrupted power supply even when the sun isn't shining.
Keep track of your solar system's performance, energy production, and consumption with a digital monitoring system. This helps in early detection of any issues and maximizes efficiency
Before installation, ensure you have the necessary permits, especially in certain municipalities in the Philippines. This might include electrical permits, building permits, and clearance from local utility providers
Partner with a reputable solar installation company, like Nativ TECHNIKS, to ensure a seamless and efficient setup. Our team is equipped with the expertise and experience to handle all solar roof requirements
While solar panels require minimal maintenance, having a plan in place ensures longevity. This includes periodic cleaning, checking for debris, and ensuring all components are functioning optimally.
Planning a solar rooftop installation now?
Want the best solar rooftop installation services in the Philippines? Contact Nativ Techniks, a leading solar company in the Philippines, for a no-obligation, comprehensive roof site survey today.
Suggested Solar System Size
0 kWp
Solar Savings Calculator: Tailor Your Energy Needs & Say Hello to a World of Savings!
Introducing our Solar Savings Calculator! Designed specifically to calculate your solar panel size based on your power requirements. Now you can easily determine the optimal solar system size for your specific electricity bill. What's more, you can also compare your potential savings with solar power versus traditional energy sources. Experience solar power now and discover how it can benefit both you and our planet.